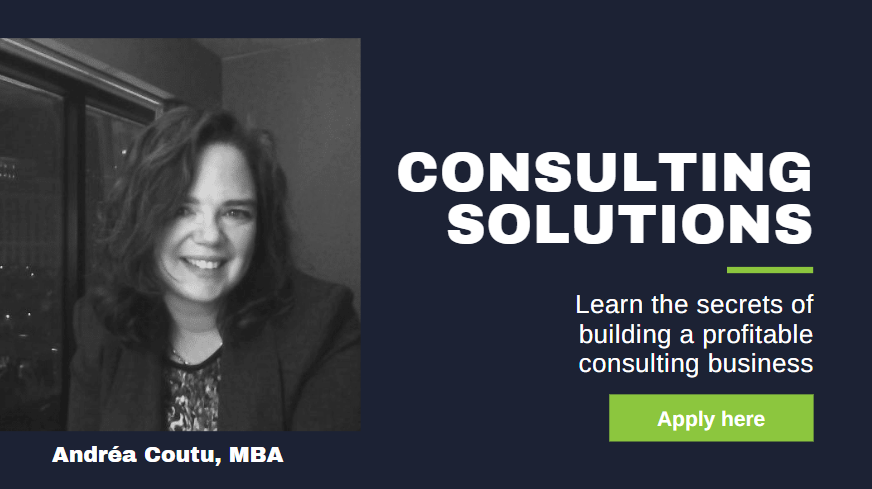 Transform your Consulting Business…
You want to take your consulting business to the next level, but you're not quite sure how.
All around you, you see other successful consultants and you know there must be some way forward.
You feel like you're spinning your wheels.
I get it.
When I started my business, I found my initial excitement transform into overwhelm.I was racing around, trying to serve every client that came my way.
I felt like I had to help everyone; after all, I had to pay the bills.
What if nobody hired me next month? What if this contract was the last?
But this worry landed me in place where I was working till all hours, even weekends and holidays.
Then, one year, when I was landing some of the biggest and most exciting clients I could imagine:
…I ended up in hospital with surgery for a serious illness
…my relationship ended with no warning, no safety net
…one of my most important clients was acquired by an international firm and they closed the department I worked with
There I was, struggling to keep things afloat. It was devastating and, I'm not going to lie, it was tough.
But, from the disaster that befell me, I rebuilt my business.I came back stronger and in a better place.
You see, I had discovered that I could build a system for my business.I could create predictable, reliable systems that would allow me to take breaks.
If you're looking to build your consulting business so that you give up feast or famine cycles, I can help.
I've put all my best secrets together in one course, giving you access to the framework that helped me.
Inside, you'll find…
Discover Your Inner Consultant
Consulting Fees: A Guide for Independent Consultants
Become a Consultant
3.5 hours of audio lessons
Videos
Worksheets
Exercises
Private forums
…and more!

Grow & Scale Your Consulting Business
Making the leap to independent consulting can be a life changing experience. But figuring out all the steps to launching, growing and building a consulting business can be a bit daunting. I can tell — I get emails from people all the time, asking me for help in getting their businesses off the ground. Well, I've taken everything I tell my coaching clients and wrapped it up in a consultant course – for just $495.
Get answers to your questions…
What's this business all about and how do I get started?
How do I navigate this industry and market?
How do I  put systems in place to manage money and finance my business?
What legal, regulatory and business management issues do I face?
How do I build a strong business?
How do I promote my business and get work from profitable clients?
How do I grow and scale my business and get off the hamster wheel?
…and more
Build, Grow & Scale Your Business
Finally — an online consultant course designed to help you grow and scale an independent consulting business.
By taking this course, you'll be prepared to:
Describe the consulting business, including what consultants do, what people become consultants, who hires them and why, and what the main consulting markets are
Assess your consulting and entrepreneurship potential and generate ideas for a consulting business
Evaluate options for starting a consulting business, including ways to transition,options for business structures and factors to consider in choosing a business structure
Analyze your market, including profiling and understanding target customers,mapping your services to those customers, identifying competitors, weighing your business against the competition's, analyzing industry trends and choosing a niche
Determine your financing needs, including considering whether you need credit and qualifying for credit
Explore business management considerations, such as understanding rules and regulations in your region/profession, understanding insurance options and hiring professional services for your business (accounting, lawyer, etc)
Promote your business and find clients by filling your funnel
Strengthen your sales skills, through systems for finding prospects, generating leads, qualifying leads, finding a fit, making a proposal and asking for the sale and closing the deal

You'll work through problems and ideas using 25 exercises that reinforce what you learn and get you on your way.
And you'll have the opportunity to discuss your ideas, progress and challenges in our private discussion forums and learning community.

Jam-packed with extra goodies…
As part of this course, you'll also receive a copy of my best-selling Consulting Fees: A Guide for Independent Consultants— a $39 value.
You'll also receive Discover Your Inner Consultant — a workbook designed to help you discover consulting business opportunities that would suit your personal background and interests. That's a $29 value.
And, just for signing up, you'll get 50 Tips for Jumpstarting Your Expert Status — free.
Learn how you want
By taking the course, you'll have an opportunity to learn how you want.
Listen to three (3) hours of audio on your computer or phone

Watch videos designed to reinforce course materials

Read text, PDFs or print out

Work through exercises to reinforce concepts and create your own plans and analyses

Interact with other consultants and your instructor in our online community

Feel confident with a course stuffed with valuable content
When you sign up for this $495 course, you'll receive:
A total of three (3) hours of audio:

2.5 hours of 11 audio lessons — listen from your computer or your iPod
Videos on consulting, marketing, sales and business management
Bonus lessons, as described below

Become a Consultant:a guide to becoming a consultant, including setting up your business, planning your marketing and getting work
Consulting Fees: A Guide for Independent Consultants(a $39 value)
Discover Your Inner Consultant workbook (a $29 value)
50 tips for Jumpstarting your Expert Status
"Managing Your Online Reputation" – a report jam-packed with tips and resources, plus two audio lessons on "Getting Started with Managing Your Online Reputation" and "Six Secrets for Managing Your Online Reputation"
"The Three Things You MUST Do Before You Move to Solution-based Fees"
"Overcoming Objections" – this two-part audiocast reveals my secrets for overcoming objections during the sales cycle
Membership in our private discussion forums, where you can browse past questions, ask new ones and tap into the support of other consultants, including Andréa Coutu
Unlimited email support for 30 days

Still not convinced?
Still not convinced about this course?
You're a reasonable person and you've no doubt heard about Internet fraud artists.
Perhaps this is the first time you've ever made an online purchase —and you're a little unsure.
Let me reassure you…
Your credit card details are secure! In fact, I'll never even see them.
Your order will be processed via my secure server. (Always look for the https in the URL when you're placing an order —it means you're using a secure server.) My orders are handled with total integrity by a well known shopping cart system and one of the world's most recognized payment processors. This payment company handles $11 billion in transactions from 155 million accounts every year!
They'll process your order in seconds…which is all that's keeping you from starting the course. In fact, I'm so confident in the system that I'll give you my email address after you order, so you can contact me if you have any trouble.
Okay…let's get started…

US$495 for the course now.
After your order, you'll instantly receive access instructions. 
Warm regards,
Andréa Coutu