Second job is more than just an idea — second jobs are becoming increasingly necessary for many people. More than seven million Americans hold second jobs. And although you might think most people who have second jobs are in minimum wage positions, studies suggest that teachers, police officers, engineers, nurses and other professionals often hold down second jobs. Having a side job can help you with your financial goals.
Benefits of second jobs and side jobs
If you can fit a second job around your existing job, you can more easily pay off student loans, save for a downpayment, pay off a car, eliminate credit card debt, fund vacations, top up retirement savings — or make ends meet. Just make sure your second job doesn't interfere with your main job. Look for work that accommodates your existing position and lets you get eight hours of sleep at night.
Of course, if you become a consultant and hang on to your day job, you'll have a great second job. But if you're looking for other ideas, consider these:
Second job / side job ideas
Teach ESL
Teach courses at your local community centre, college continuing studies program, or community college
Get a job at a retail or department store, especially during the holiday season. You may even get discounts on purchases.
Tutor
Cut lawns
Do landscaping
Babysit
Clean houses
Become a handyman/woman
Bar tend
Deliver pizza
Pet sit
House sit
Walk dogs
Run errands
Type
Do desktop publishing
Grade SATs — check out the College Board website
Sell stuff on eBay and other online auction sites
Again, consulting makes a great second job choice — and may pay anywhere from $35 to $300 an hour! Incidentally, many people take up consulting as a side job while they raise families, care for elderly family members or ease into retirement. (For mentorship and guidance in starting a consulting business, check out Become a Consultant: How to Make the Leap.)
Check out my book on Side Jobs: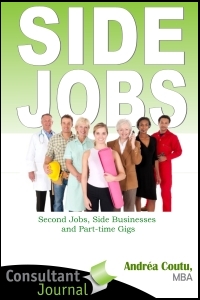 "Second jobs: ideas and tips for second jobs" from Become a Consultant at ConsultantJournal.com.