Write Your Business Plan NOW: Complete Kit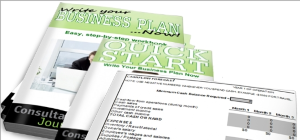 Step-by-step workbook
Business and personal financial templates
Detailed outline and checklist
Quick start template for Word
Tips and instructions so you know what to put where and why
Easy electronic format so you can get started right away
All put together by someone who's been there….
Get rolling with this complete business plan kit for just $39!
Looking to write a business plan? Not sure where to start?
It's not easy to figure out a business plan on your own.
Most books just give you the bare bones, without any details,
and you're still left to figure out what actually goes into which
section, guess at what bankers and investors want to see…and
then figure out pages of financials.
Write Your Business Plan Now simplifies business planning
with a powerful set of tools. For just $79 $39, you get:
Write Your Business Plan Now – a full workbook designed to
help you work through a business plan, identify the information
you need to include for your audience, develop strategies
and get started with an action plan.
Quick Start Guide – in a rush and want to get started fast?
Simply start writing your business plan in this Word template.
Detailed outline – no more guessing at what "Marketing Plan"
and "Operations Plan" really mean – we've broken it down for you.
Financial plan templates – start entering your financial plans in
these easy to use Excel templates. Cash flow, income statement,
balance sheet, start up cash estimates and a personal financial
plan – we've saved you hours of time by putting these sheets in a
spreadsheet for you, complete with easy to follow instructions.
Start-up checklist – our thorough checklist walks you through
what you need to get your business going.
Order Write Your Business Plan Now for just $39

An all-in-one business kit based on what really works
Write Your Business Plan Now is full of sound advice from a veteran consultant
who's spent years in the trenches. I'm the author – Andrea Coutu –
and I have started multiple companies, including a consulting firm
I've run for 20 years. As part of my consulting firm, I develop marketing and business plans
and programs for companies ranging from the Fortune 500 to tiny basement start-ups.
I've also been a business advisor for a self employment program and I hold an MBA in Strategy.
I've seen what works – and what doesn't — and I know the major
stumbling blocks that hold people back from creating great
business plans. That's why I'm sharing some of the
actual materials, templates and spreadsheets I use in my business every day.
When you work through Write Your Business Plan Now, you'll be able to:
Understand why you need a business plan and how to meet your audience's needs, whether they're investors or family
Work through your own goals for writing a plan
Review your own skillset and needs so that you can plan accordingly
Get access to research resources aimed at making your plan
more credible in the eyes of lenders, bankers and investors
Work through exercises and worksheets designed to help you
position your product or service and own a niche
Follow models to set prices that reflect your market position and cost realities
Turn to sound instructions for working through financials, even if you hate math
Start a ready-to-implement action plan for launching your business
and much more!
Order Write Your Business Plan Now for just $39

.
Get moving quickly – Quick Start Guide
Too busy for all that? In a rush to get going? No worries – I've put
this program together with you in mind too. This kit includes a
Quick Start Guide that you can start editing in Word right away.
Just start typing your business plan in the document! And you
can start working on the financial spreadsheets too – they're
set up so you just need to plunk in numbers.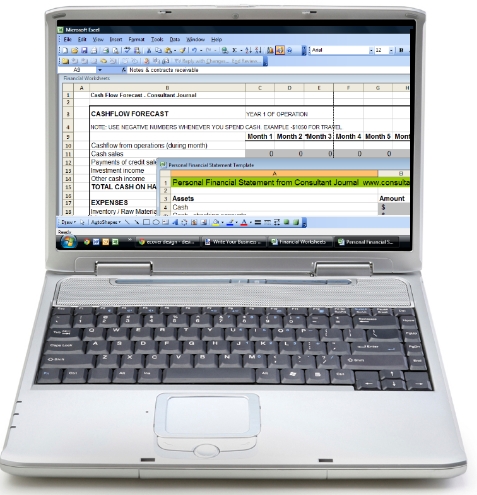 Order Write Your Business Plan Now for just $39
Not sure if this is the kit for you?
This kit is designed for people who want to write their business
plans themselves – or at least work through a substantial part of it
before turning to a professional for help. Whether you're seeking a
big or small investment or loan or even just trying to convince your
family or yourself that your business is worthwhile, this guide can help.
I'm including the actual worksheets and templates I use in my own
business consulting practice when I help other companies with their plans.
There's a powerful set of tools here that can help you, no matter whether
your business is still just a dream or if you're already up and running.


ORDER WRITE YOUR BUSINESS PLAN NOW – JUST $39.
[PDF link delivered instantly via the web]
System Requirements: You will need a browser and Acrobat Reader (and
Microsoft Word and Excel if you want to use the Quick Start Guide and spreadsheets)
You'll have the complete kit in minutes, so you can start
working on your business plan – and dream – right away. 
Warm regards,
Andréa Coutu
PS: As a thank you for buying the kit, I'm including a free
checklist for starting up a business. Be confident in your plan
when you know you haven't missed a step.