Reading the Kindle version of Consulting Fees: A Guide for Independent Consultants? Upgrade to the full version for just $14.99 and you'll get:
The Three Things You MUST Do Before You Move to Solution-based Fees – three of my best tips explained in an audiocast that you can listen to on your computer, iPod or other mobile device

Overcoming Objections – my two-part audiocast reveals secrets for overcoming objections in the sales process

AND

The full book in PDF, with all the chapters, including Part II: Solution-based Fees, which goes into detail about making the move to solution-based fees, packaging your services to work accordingly, and working through the self worth and self esteem issues that often block people from charging – and getting – what they're worth.
To take advantage of this special offer, simply use discount code kindle at checkout.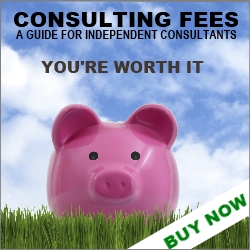 [ej_buy_button item='1001949′ title='Consulting Fees: A Guide for Independent Consultants'/]

(Remember to use discount code kindle at checkout.)