Want to get ahead? Consider taking on a side job. Working at a second job is often a great way to:
Pay down credit card debt
Save for a downpayment
Build up an emergency fund
Top up your retirement fund
Get your consulting business or other small business off the ground
Eliminate your student loans
Save up for a car
Get money together for a dream trip
Have a dream wedding
Have cash on hand for the next year of car insurance, home insurance or anything else you've been planning to finance.
I started consulting on a part-time basis, back when I still had a day job. As a result, I was able to achieve many dreams. Now I run my own business on a full-time basis. What could a side job do for you?
Check out my book on Side Jobs: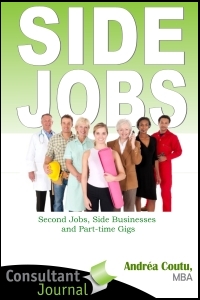 Related to side jobs