The BC teachers' strike has social media abuzz with insights. Today, The Vancouver Sun noted that Google searches for "private schools" in BC are up since the strike started. However, as a marketing consultant, I wanted to check a hunch. And my hunch is right.
The Sun notes that private school searches are up three times what they were before the strike. This set off my marketing consultant spidey senses. After all, you have parents assessing their family's plans for the coming year. May and June seem like times I'd expect people to be shopping around for private school. So I pulled up stats in Google Trends, just like the Sun, but expanded them for a view of the past nine years, the most it would give me.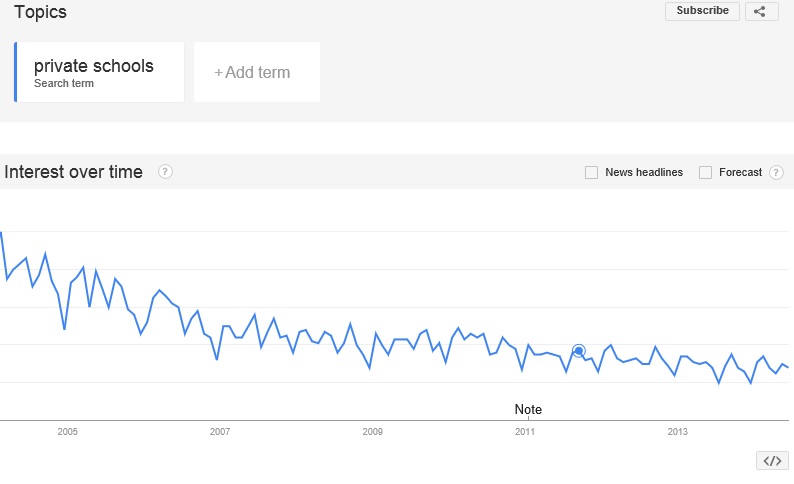 Searches for private schools have been on a downward trend since 2005 in BC, although there are recurring peaks and valleys. There were 2 fewer searches for "private schools" this past May than the year before.
So, what looks like a short term trend – an increase in the past 3 weeks – doesn't look like an increase when put against historical data.
I like Chad Skelton's usual columns in The Vancouver Sun and I'm not here to knock him. But I do want to draw attention to what happens when we only look at part of the research for a market. In fact, if I had a little more time and wasn't busy finishing off some financials, I'd see if I could triangulate the data through other search engines. related keywords and more.
Consulting market research matters. In this case, the research was for a story. But stats matter in business, government and more. An entrepreneur might have spotted this seeming trend and considered ways to take advantage of it. However, with the expanded research, we can see that interest in private schools has fallen over several years and looks somewhat steady now, with seasonal fluctuation – usually at the start and end of the school year. So, if you're using market research to back up decisions for your organization, make sure you get the full story.
…unless you're trying for link bait, which is "a whole nother" story.
Andréa Coutu, a Vancouver marketing consultant, lives and works in Vancouver, BC. She is the author of several business books, including Consulting Fees, Discover Your Inner Consultant and the Consulting Start-up Course, available here and on Amazon. Andréa Coutu has taught for UBC and SFU and has been interviewed by Entrepreneur, CBC, CBC Radio, Radio Canada, Business Week, CanWest, The Vancouver Sun, The Vancouver Province, The Toronto Star, Realm Magazine, Business in Vancouver, Buffalo First, Buffalo Law Journal and many other media outlets. She has spoken about consulting, entrepreneurship, business start up, marketing, management, business strategy, advertising, work-life balance, parenting, working from home, MBAs and even road rage. She has also worked as a freelance writer, publishing articles in a range of magazines and newspapers, including USA Today.