Sample consulting invoice — starting a consulting business means more than just doing consulting work. Suddenly, you're wearing several hats, often all at once. One of the more intimidating tasks includes bookkeeping, assuming you've already figured out the trick to setting consulting fee rates and making money. Unless you're already running a home business (or perhaps working as an accountant), you probably haven't had to send out many invoices. However, if you want to get paid, you'll have to set up a consulting invoice template. Here's what you need for your consulting invoice template. I strongly recommend using a spreadsheet or accounting software to manage your consulting invoices. You can also buy pre-written invoice and contract templates.)
By the way, you can get the following template, along with instructions, when you order Consulting Fees.
The basics of  your consulting invoice template
INVOICE
Name / Company Name
Address
Phone
Fax
Email
Web
US Federal Tax Payer ID (Business Number in Canada)
Date
Invoice number
PURCHASER'S DETAILS
Contact
Company Name
Phone
Email
Description of goods or services delivered/performed
Total amount payable / paid
Indication of items subject to tax. You can also state that the tax is included and what the total tax rate is.
Payment terms, including to whom you want the check made out, invoice due date, and any penalties for unpaid invoices.
FREE OFFER: Get a copy of my famous article on consulting fees, along with a free six-part mini course – click here. It will give you a taste of what I offer in the book.
SAMPLE CONSULTING INVOICE FOR CONSULTANTS
(Feel free to copy and paste this sample consulting invoice into your word processor, spreadsheet or accounting and invoicing software. Keep in mind that it's just a sample and you'll need to customize it for your own home-based consulting business.)
—
                                                                      INVOICE

ABC Company
401 – 1122 XYZ Street
Beverly Hills, CA 90210
555-555-5555
abc@not-a-real-email.com
www.consultantjournal.com
Federal tax # 12345
Invoice # 10
January 23, 2006
Sample Client Inc
301-1960 West 123rd Avenue
Beverly Hills, CA 90210
555-555-555
Attention: Jane Doe, Marketing
INVOICE FOR:
| | | | |
| --- | --- | --- | --- |
| Work Performed     | Hours | Rate | Total |
| Direct mail campaign consulting | 3 hours | $120.00 |  $360.00 |
| Tax | | 10% | $  36.00 |
| TOTAL PAYABLE | | | $396.00 |
Terms
To be paid within 21 business days of invoice date. Please make all checks payable to ABC Company. Unpaid balances accrue interest at 26.94% per annum, calculated monthly.
All work is complete! Thanks for your business.
—-
Get the above invoice in PDF, Word, RTF or Excel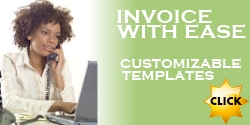 Get Consultant Journal's invoice template package – instructions and templates in PDF, Word, RTF and Excel – when you order Consulting Fees.
Moving beyond the sample consulting invoice
This is just a sample invoice for your consulting business — something to get you started when you first become a consultant and start making money from home. If you're doing a lot of invoicing, you might want to look at investing in some accounting and invoicing software. I use QuickBooks and my 2000 version is still going strong. With accounting software, you can automatically fax or email invoices. Being able to send invoices by email has saved me a small fortune on stamps.
If basic bookkeeping and finance for consultants seems a bit intimidating or if you simply don't have time for it, think about hiring an accountant. After all, the companies that hire you have figured out that sometimes it makes sense to outsource to an expert. As I mention in my guide to making money with consulting fees, you can sometimes make a lot more money by paying someone else to do a job for you! And, heck, it's easier than fighting with accounting software — for a lot of people.
Special Offer: Free Template Package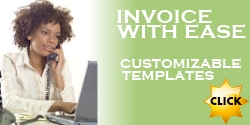 Get Consultant Journal's invoice template package – instructions and templates in PDF, Word, RTF and Excel – when you order Consulting Fees.
Related Posts
"Sample consulting invoice" from Become a Consultant Blog at ConsultantJournal.com.