Write Your Business Plan Now- a complete, all-in-one kit for writing your business plan.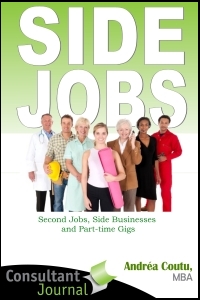 Side Jobs: Second Jobs, Side Gigs & Part-time Businesses
Looking to get ahead, jumpstart your career and put joy back in your life?
Join the millions of people just like you who are taking on creative
side jobs and businesses to make more money, boost their careers and have
some fun.
Are you looking at combining kids and career? Maybe you've heard about moms who have their own businesses and you're wondering if it would work for you. But how do you know if starting a business would work for you? How do you make sense of all the opportunities out there and find one that works for you?