Today's the last day to get the Consulting Start-up Course (Become a Consultant – How to Make the Leap) for just $127. That's 35% off the regular price!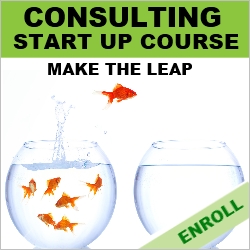 The course includes audio lessons, worksheets, exercises, discussion forums and a full guide. You also gain access to the full Consultant Journal library – Discover Your Inner Consultant, Consulting Fees, Become a Consultant and more. The ebooks alone are worth more than the $127 tag, so this is a great opportunity.
Just use discount code jan12 at checkout – offer expires tonight at midnight!